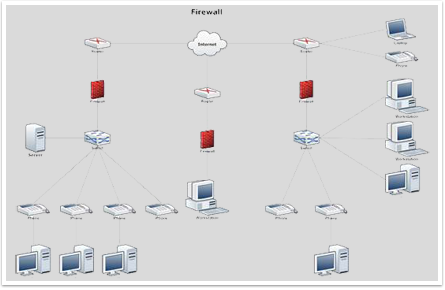 compiles documentation together covering all IT fundamentals of your business including network infrastructure, server room equipment, computers, vendors, specialized software, data backup, and disaster recovery plans.
We make sure the documentation is understandable to even the most non-tech savvy person. This documentation report includes:
Network Diagram - A customized diagram showing how your switches, modems, firewalls, servers, computers, and network printers work together.
List and Pictures of Server Room Equipment - Do you know what's what in your server room?

will take a picture of each piece of equipment so anybody in your office can identify.
List and Pictures of Non-Server Room Equipment - Having an up-to-date and complete inventory list of computers, laptops, iPADs, and printers is mandatory to manage your business and very useful when it comes to budgeting and replacing older equipment.
List of Technical Vendors – Ever lose track of all the vendors you use between your phones, internet, copy machines, and software?

documents and manages all of your vendors.
Backup Plan – Your backup plan is the most significant part of managing your business. Your backup plan will cover:
Identification of and Mapping of Important Business Data Groups
Where you're most important business data groups like Accounting, Email, Software, Database and General Office data and files are stored and when, where, and how they are being backed up.
Description of your onsite and/or offsite backup. Whether you are still using tape drives, external hard drive, offsite server, or online/cloud tool to back up your data, will have it in writing.
Specialized Software – Many businesses have specialized software specific to their business, whether it's QuickBooks or SharePoint, the list goes on.

learns the software unique to your business.
Remote Users – Many businesses give their employees tools to work remotely. We will document how exactly they can achieve this connection to the server, folders, and documents.